Details
SMSL DA-8S
Amplificateur Class D Infineon MA12070 Symétrique Bluetooth 5.0 2x80W 4Ω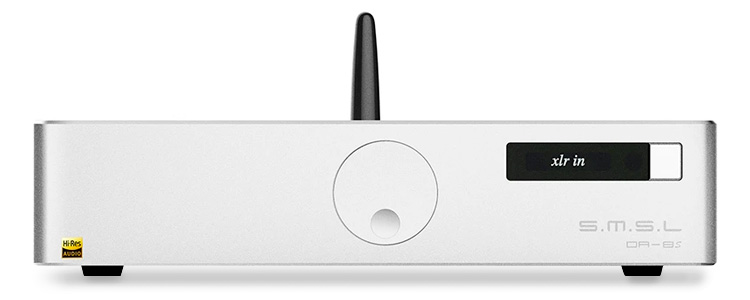 The SMSL DA-8s is a compact and affordable yet high performance balanced Class D amplifier, delivering a comfortable 2x80W power output at 4Ω with a high efficiency of over 92%. These impressive capabilities come from an Infineon MA12070 amplifier module, which provides excellent sound reproduction while limiting power consumption.
The volume control is entrusted to an NJW1194 chip, allowing precise volume adjustment without adding distortion. The SDB mode of the unit offers the possibility to adjust the bass and treble levels over a range of -10dB to +10dB.
On the connection side, the DA-8s is simple and efficient. The rear panel of the amplifier displays a balanced XLR input and an unbalanced RCA input, as well as speaker output terminals. A small particularity, the SMSL amplifier has Bluetooth 5.0 connectivity supporting the aptX and thus offering the possibility to play music directly from your smartphone or tablet.
The entire DA-8s circuitry benefits from a careful design, incorporating quality components such as Siemens coupling capacitors or Nichicon filter capacitors.
SMSL DA-8s review by Soundnews
"

If I never knew the price of this unit, I would bet I am listening to an integrated amplifier in the $400 to $600 price range and that says a lot about its performance. At just a fraction of the price, SMSL DA-8S offered a balanced sound across the board.

"

Technical characteristics
SPECIFICATIONS
Product type
Amplifier
Amplification chip
Infineon MA12070
Amplification type
Class D
Output power
2x80W @ 4Ω
2x40W @ 8Ω
Efficiency
> 92%
Volume control
NJW1194
Inputs
Bluetooth
1x Single-ended stereo RCA
1x Balanced stereo XLR
Outputs
Speaker terminals
GENERAL
Housing material
Aluminium
Color
Silver
Dimensions
185 x 125 x 40mm
Weight
1kg
Power supply
24VDC (power supply included)
Package
1x SMSL DA-8s
1x Power supply
1x Remote control
1x Bluetooth antenna